High Quality Photos On Instagram: Hi Folks welcome to my page. Do you want to know how to upload high quality photos on Instagram? Instagram has been intentionally lowering the image quality of photos in order to post for you faster. However, you may submit high-resolution photographs and videos using the new "High-Quality Upload" function. This is how you do it.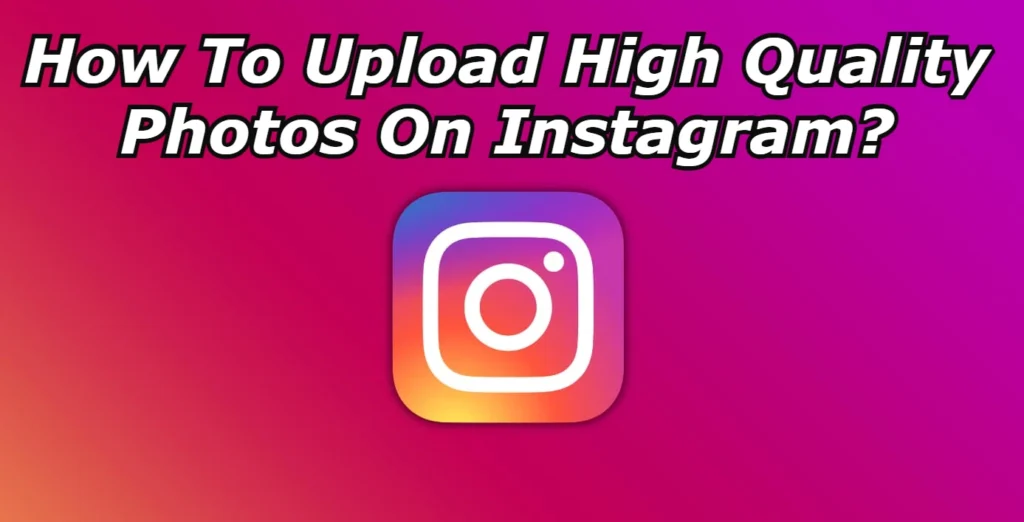 Instagram is powerful social media accessible today, and it's used for more than just personal photos and fan accounts. Because an increasing number of individuals use Instagram for marketing, advertising, or hobbies such as photography, it is critical that the photographs submitted be of excellent quality. However, this may be difficult to do at times, and it's quite aggravating when an image that looks amazing on your phone becomes fuzzy on Instagram.
Also Check:
How To Increase Instagram Views?
How To get 1000 Views On Instagram Reels?
Why Instagram Photos Low-quality?
Whether you believe that your photos are being compressed randomly or if it is happening with all of your uploads, there is a very specific reason why a photo appears low quality on Instagram but high quality on your computer or smartphone. Instagram compresses images that transcend a certain size limit.
This signifies that your photo is being resized to meet their requirements, which isn't necessarily a good thing. This happens regardless of whether you use your phone or computer to submit the photo, so it's inescapable unless you follow specific guidelines.
How To Upload High Quality Photos On Instagram?
Here's how to upload high-quality Instagram images.
Fix The Settings:
Open Instagram settings
Select the "Account"
Click the "Data Usage"
Turn on "High-quality uploads"
Instagram photo Format:
Instagram has give the some following guidelines for photo uploading.
Use the most recent Instagram app version.
Upload a photos with an ratio from 1.91:1 to 4:5.
Upload your instagram photo width minimum of 320 pixels and  maximum of 1080 pixels.
Any image larger than 1080 pixels will be compressed, and detail will be lost. Photos with a width of fewer than 320 pixels will be enlarged, resulting in blurriness. Any photos that do not satisfy the aspect ratio standards will be edited to fit.
Resize The Photo:
If you anticipate that your photo will not be an acceptable size, you can resize it without sacrificing quality. For instance, photos from a DSLR camera will probably be of higher quality than Instagram allows, so you should import them into software such as Photoshop, Lightroom, or GIMP and resize them before uploading.
If you use Lightroom, you may configure a custom export preset to ensure that your photographs never exceed 1080 px.
Final Words:
Whether you're a professional marketing a company, an aspiring influencer, or a regular Instagram user, the guidelines for submitting photographs remain the same. Simply follow to Instagram's accurate pixel limits, and you should not notice any unexpected modifications in your photographs. It may need a little additional effort on your part, but the effects will be noticeable.
These are the simple steps to upload high quality photos on instagram. we hope this information is useful to how to upload high quality photos on instagram. If you like this  how to upload high quality photos on instagram then please share it with your friends. we are regularly updating my page so keep following my page for more instagram tricks updates. Thank you.
Tags: how to upload high quality photos to instagram from android, instagram photo quality setting, how to upload high quality photos to instagram story, high quality upload instagram iphone, high quality upload instagram not showing, how to post high quality videos on instagram, instagram upload quality video, high resolution media instagram,